Use full screen for better viewing.
Allen C Stark - Slide AS-19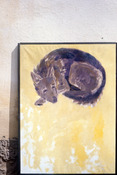 Description
Portrait of a mouse; I got to known Allen "Pete" Stark in the 1950's when he transferred from Oregon State to the U of O. With his masters degree in painting he was over qualified for a teaching position at Treasure Valley Community College, which he began in 1963 or 4. He left TVCC after 20 to 25 years & went to Europe with his family for a bicycle excursion that lasted a year. He has been living in Idaho in a state of retirement, painting, printing & writing...