Use full screen for better viewing.
South Commercial Street (Salem, Oregon)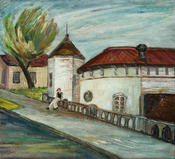 Description
The painting depicts a northeasterly view of the bridge over Shelton Ditch in the 300 block of Commercial Street SE. The bridge survives, but the buildings were razed by the early 1970s. The painting is characteristic of Fowler's interest in particular places and structures of the local scene in and around Salem.
Collections