Use full screen for better viewing.
Washington State North Coast Burden Basket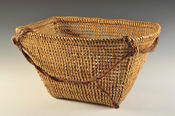 Description
Ed Carriere, of the Suquamish Tribe in Puget Sound, learned the art of weaving as a child from his great-grandmother Julia Jacob. This open-weave carrying or ""burden"" basket has a strap (or tump line) woven from cedar bark, and complements a similar, miniature basket from the museum's historical collection. In recognition of his art and teaching, Carriere was awarded the Washington State Governor's Heritage Award in 2005.
Washington