Use full screen for better viewing.
Lidded jar with impressed design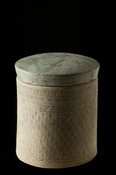 Creators
Description
This lidded jar is made of faience, a ceramic-like material made of vitrified sand, salt, and lime. The ancient Egyptians prized faience for its beauty and brilliant luster and because of the values that its colors symbolized. Green, for example, came to be associated with regeneration, rebirth, and vegetation. Throughout Egyptian history, faience was used extensively for religious and funerary purposes in the form of amulets, beads, small figurines, scarabs, wall tiles, and a host of different types of vessels. This lidded jar, which may have held some type of precious substance, most likely came from a tomb or funerary context.
Collections