Use full screen for better viewing.
Platter with Fruit and Flowers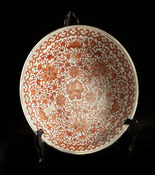 Creators
Description
This elegant design skillfully combines a variety of symbols. At the center is trio of fruits: the "Three Abundances." The peach represents longevity; the pomegranate, with its many seeds, represents many sons. The third fruit is a Buddha's Hand citron, a name that plays on the resemblance of the fruit to a fingered hand. It represents "blessings and longevity," since in Chinese these words sound similar to those for "Buddha's hand."The repeated motif on the outer rim of the platter is the "wish-granting wand head." Combined with other motifs, it creates common lucky rebuses, pairing fulfillment of wishes with blessings and longevity (the red bats and "longevity" character), a harmonious marriage (the repeated lotus), and great joy (a pun based on the V-shaped stone chimes).
Collections