Use full screen for better viewing.
Flared Bowl with Yellow Glaze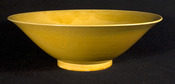 Creators
Description
Yellow was the exclusive color of the emperor, and items for daily use by the imperial family were often yellow. Yellow vessels are therefore often regarded as being for the emperor's personal use. However, yellow bowls such as this one were also made for a particular ritual context. For example, at the yearly summer solstice during the Qing dynasty (1644-1912), the emperor made offerings to the Earth God at the Altar to Earth outside of the north city wall in Beijing. During these rituals, only yellow vessels were used, as the earth was associated with that color according to the traditional Chinese "Five Phases" view of the universe.
Collections