Use full screen for better viewing.
Map of Salem, Marion County, Oregon, 1858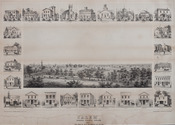 Creators
Publisher
W. C. Griswold & Company; Kuchel & Dresel, Lothographers, San Francisco
Description
"Drawn from nature by Kuchel & Dresel, 176 Clay St. S.F."; Includes line draywings of the Episcopal Church, Wallamet University, Methodist E. Church and the Willson house.
Black and White