Use full screen for better viewing.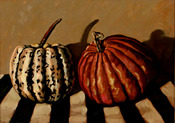 Creators
Publisher
Hallie Ford Museum of Art
Description
John Van Dreal is a Salem artist who began painting at age seven with the instruction from his father, a watercolorist. Born in Colorado and raised in Southern California, Van Dreal earned his Bachelor of Fine Arts degree at Brigham Young University. He says of his work: "I have considerable admiration for the Masters and employ their established composition formulas to determine the dimension and design of my work. Then I use "alla prima" oil painting combined with glazing to render form and capture light. My completed work is reminiscent of classical realism but with a contemporary edge.
Keywords
Autumn
,
Draperies
,
Food
,
Oil paintings
,
Paintings
,
Pumpkins
,
Squashes
,
Still life paintings
,
Still lifes
Collections