Use full screen for better viewing.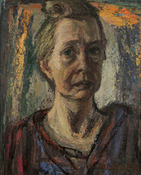 Creators
Publisher
Hallie Ford Museum of Art
Description
A student at the Portland Art Museum School, Amanda Snyder was influenced by C.S. Price and Charles Heaney but developed a distinctive approach of her own that included abstract animal studies as well as totally nonrepresentational paintings. Her self-portrait, painted when she was about 54 and well-established as a major regional artist in her own right, is a frank self-assessment of her appearance and perhaps her state of mind in her middle age. It was exhibited in 1964 at the Portland Art Museum in the exhibition 'Amanda Snyder, Paintings and and Collages'.
Keywords
Oil paintings
,
Paintings
,
Portrait paintings
,
Portraits
,
Self-portraits
,
Women
Collections