Use full screen for better viewing.
Portrait of Paul Rosenberg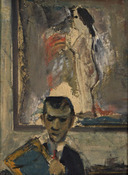 Creators
Publisher
Hallie Ford Museum of Art
Description
Jefferson Tester, brother of the Oregon artist Amanda Snyder, was born in Tennessee, attended the San Francisco Art School in 1918, and moved to Portland in 1919 to work as a staff artist for the Oregonian. He then enrolled at the School of the Art Institute of Chicago, graduating in 1924. He worked as a commercial illustrator in New York for the next twenty years and was the artist of seven Time magazine covers. His portrait of Paul Rosenberg was painted in the period that Tester began to move away from commercial work to concentrate on fine art. He settled in Oregon in 1963. Paul Rosenberg, who was considered Paris's most important dealer in the 19th-and 20th-century art between World War I and World War II, fled with his family to New York when the Nazis invaded France in 1940. He left behind some 300 major paintings subsequently confiscated by the Nazis. One of these was allegedly Henri Matisse's "Odalisque" (1927 or 1928), which entered the collection of the Seattle Art Museum in 1954. Following a recent lawsuit, the painting has been returned to Rosenberg's heirs, this being one of the numerous recent or pending cases that involve works possibly stolen by the Nazis from Rosenberg and other Jewish collectors and dealers in the 1930s and 1940s in Europe.
Keywords
Art dealers
,
Men
,
Nudes
,
Oil paintings
,
Paintings
,
Portrait paintings
,
Portraits
,
Tempera paintings
Collections