Use full screen for better viewing.
Camp Fire or Making Friends with the Cook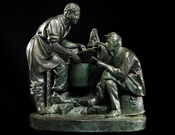 Creators
Description
John Rogers was the most famous of a group of American sculptors who, during the Civil War and after, rejected Neoclassicism in favor of realistic depictions of typical American subjects. Known as "Rogers Groups," his small plaster or bronze figural ensembles showed American life in cheerful, positive terms, while often, as in this example, touching on such issues as the Civil War or relations among the races. Rogers's sculptures parallel American genre paintings of the era-works dealing with the activities of everyday people.
Collections