Use full screen for better viewing.
Abstraction (Composition) #51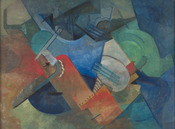 Creators
Publisher
Hallie Ford Museum of Art
Description
While in New York, Patecky saw the nonrepresentational works of Wassily Kandinsky at the Museum of Non-Objective Painting, forerunner of the Solomon R. Guggenheim Museum. Inspired by Kandinsky's color and form, Patecky experimented with making his own non-objective compositions. Beginning in 1946, he sent samples of his new work to Hilla Rebay, director of the Museum of Non-Objective Painting. She corresponded frequently with Patecky, serving as his long-distance artistic coach, and began to exhibit his work at the Museum in 1949. "Composition #51" is one of ten by Patecky that Rebay exhibited in 1950. Further reading in "Albert Patecky: Abstractions" Roger Hull, American Art Review Vol.XVII No.5, 2005.
Keywords
Abstract paintings
,
Abstract works
,
Oil paintings
,
Paintings
Collections